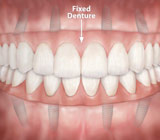 Q: Is there much of a difference between fixed and removable dentures?
A: There's a BIG difference! Removable dentures are the type your grandparents might have had — and possibly their grandparents, too. They work well enough after you get used to them, but there's always the issue of slippage, poor fit, limited function… and potential embarrassment. Modern fixed dentures, however, get their stability from today's state-of-the-art system for tooth replacement: dental implants. They won't loosen or slip, they function and "feel" like your own natural teeth, and they can last for years and years to come.
Q: How are fixed dentures supported?
A: Each arch (set of teeth comprising the top or bottom jaw) of a fixed denture is anchored into the jaw bone by four or more dental implants. These small screw-like devices, made of titanium metal, are placed into the jawbone in a minor surgical procedure. Once set in place, they remain permanently attached by both mechanical forces and osseointegration — the process in which living bone cells actually become fused with the metal implants themselves.
Q: What is the procedure for getting dental implants like?
A: Before having any work done, you will receive a thorough examination and have a set of diagnostic images made. Implant surgery is normally performed in the dental office, using local anesthesia or conscious sedation. If any failing teeth must be extracted (removed), that will be done first. Next, small openings are made in the gums and the jawbone, and the implants are placed in precise locations. Sometimes, a set of temporary teeth can be attached to the implants immediately; other times, the implants will be allowed to heal for a period of time.
Q: Besides added stability, are there other advantages to fixed dentures?
A: Yes! As they become integrated in the jaw, dental implants actually help preserve the quantity and quality of bone in the jaw; removable dentures, on the other hand, decrease bone quantity and quality. This is important because the jawbone plays a vital role in supporting facial features like lips and cheeks. When the facial features lose support, it can make a person look prematurely aged. Also, people who wear removable dentures often have trouble eating "challenging" foods like raw fruits and vegetables (which are highly nutritious), and opt for softer, more processed (and less nutritious) foods. With fixed dentures, however, you can eat the foods you like.
Q: Aren't fixed dentures with dental implants more expensive?
A: Initially, the answer is yes — but in the long run, they may not be. Unlike removable dentures, which inevitably need to be re-lined or remade as the jawbone shrinks, fixed dentures can last for the rest of your life. They don't require adhesives or creams, and you will never have to take them out at night and clean them. In fact, you can think of them as a long-term investment in yourself that pays off with a better quality of life!
If you'd like more information on fixed dentures, please contact us or schedule an appointment for a consultation. You can learn more by reading the Dear Doctor magazine article "Dental Implants: Your Best Option for Replacing Missing Teeth."