My Blog
Posts for: June, 2014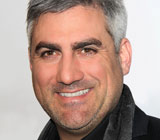 Some train intensively for months ahead of time, so they can achieve peak performance during the season; others simply enjoy occasional pick-up games with friends. But here's something all athletes, both amateurs and professionals, should know: Dental accidents in sports can happen at any time, and the consequences of not wearing the proper protective equipment can be serious.
Don't believe us? Just ask American Idol season 5 winner Taylor Hicks. Before his singing career took off, Hicks was a high-school basketball star; he lost his two front teeth during a championship game.
"It was just one of those collisions that happen in sports," Hicks recently told Dear Doctor magazine. "I never wore a mouthguard in basketball. Obviously I should have."
We agree. And we want to remind you that basketball isn't the only game that poses a risk to your teeth (although statistics show it's the leading cause of sports-related dental injuries). Soccer, bike riding, and equestrian sports — along with some two dozen other games and physical activities — are all on the American Dental Association's list of sports in which participants should wear a mouthguard.
What's the best kind of mouthguard? The answer is: the one you actually wear. For the maximum comfort and protection, there's nothing like a custom-fitted mouthguard provided by our office. This is a piece of protective equipment that's individually crafted just for you — in fact, it's made from a model of you own teeth! Not only will it fit your mouth perfectly, but it's also strong, lightweight and easy to wear.
It's true that off-the-shelf mouthguards are available from big-box retailers in limited sizes (like small, medium and large); also available are the so-called "boil and bite" types, which you soften in hot water before molding them into shape with the pressure of your fingers, teeth and tongue. Either one of these options is probably better than nothing — but neither provides the level of protection and comfort that a custom-made mouthguard offers.
When you consider the potential cost of tooth replacement — not just its hefty price tag, but also the lost time, trouble and inconvenience it can cause — we think you'll agree that a perfectly fitted mouthguard, made by our office, is a piece of sports equipment you really can't afford to do without. Best of all, its cost is quite reasonable.
So if you're the active type, come in to ask us about fitting you with a custom mouthguard. For more information, please contact us or schedule an appointment for a consultation. You can learn more in the Dear Doctor magazine articles "Athletic Mouthguards" and "An Introduction to Sports Injuries & Dentistry."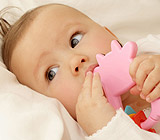 Throughout your child's lifetime, you will experience many important milestones together, some more pleasant than others. Teething is one of those notable milestones, and unfortunately, this "rite of passage" may cause your baby to feel uncomfortable at times.
Teething describes the tooth eruption process by which baby teeth emerge through the gums and into the mouth. It usually begins when your baby is between six and nine months, but may start as early as three months or as late as twelve months. Most children will have all 20 baby teeth by agree three, with the lower front teeth erupting first, followed by the two upper front teeth and then the molars.
Every baby will experience teething differently, but the following symptoms are very common:
Irritability
Biting and gnawing
Gum swelling
Chin rash
Disrupted sleeping patterns
Ear rubbing
Drooling
Decreased appetite
Many babies make it through the teething phase without much discomfort, but sometimes the pain can be substantial. If your baby is lucky enough to experience no discomfort, he or she will likely demonstrate some of the classic symptoms of teething, such as swollen gums and drooling. You may also notice that he or she will bite or chew anything and will wake up frequently during the night. These symptoms occur most often the week the teeth actually break through the gums, beginning four days before the eruption and lasting about three days after.
Here are a few suggestions to help reduce your baby's discomfort during teething:
Teething rings: The American Academy of Pediatric Dentistry (AAPD) recommends that parents use a clean, chilled, rubber teething ring or cold wet washcloth.
Chilled pacifiers: Be careful not to freeze teething rings or pacifiers, as ice can burn if left in place too long.
Gum massage: Massaging inflamed gums with your clean finger may be helpful to reduce the pressure.
Over-the-counter medicine: If pain continues, you can give your baby acetaminophen or ibuprofen, but check with a pediatrician or pharmacist for the correct dosage. The medicine should be swallowed and not massaged into the sore areas, as this, too, can burn.
Other unpleasant side-effects of teething include diarrhea, rashes and fever. Though many have reported these symptoms to be normal, if your infant has fever or diarrhea during teething or continues to experience pain, you should schedule an appointment with our office. We'll examine your baby to ensure that the discomfort is related to teething and not something more serious.
If you would like more information about teething, please contact us for a consultation. You can also learn more by reading the Dear Doctor magazine article "Teething Troubles."