My Blog
Posts for tag: cosmetic dentistry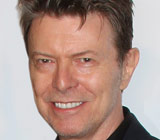 In his decades long career, pop-music chameleon David Bowie has gone through a dizzying series of transformations. And as he morphed from alien-inspired space oddity to fashion-forward international superstar, his smile benefited from some very dramatic ch-ch-ch-changes. While Bowie hasn't talked much about his dental treatments, a comparison of pictures from the mid 1970s to the mid '90s (not to mention a much-viewed youtube video on the subject) makes it clear: his tooth staining, misalignment and gum recession have been left behind like polyester bellbottoms.
But tooth makeovers aren't just for pop stars! Cosmetic dentistry can benefit anyone who's interested in improving their appearance, at any age. Often, treatment starts with a "smile analysis" — a review of the current aesthetics of your mouth, including the shape, spacing, color and alignment of the teeth, the appearance and general health of the gums, and the way the lips and gums frame the smile.
This analysis can help pinpoint some places where the overall look of your smile may need improvement, and it can also identify some specific treatments to make it better. It's even possible to see a simulation of what you'd look like after the treatments are complete, to help ensure that your goals are realistic and attainable. What are some of the most common cosmetic procedures?
For stained teeth, you can try in-office whitening with concentrated bleaching solutions, or professionally-supervised at-home treatments using plastic trays that are custom-made to fit your teeth. The major difference between the two is the amount of time you need — with in-office treatments, you'll see results right away, while at-home gels may require weeks.
Tooth bonding and restoration with composite resin is a relatively fast and easy way to fix minor to moderate chips, flaws and discoloration. Because the composite material bonds directly to the tooth itself, this method requires only minor tooth preparation, and is often completed in just one office visit.
If your teeth, like Bowie's, need more extensive restoration, dental veneers or crowns may be required. Veneers are super strong, wafer-thin coverings that fit over the front surface of your teeth. Besides giving you that "Hollywood white" smile, they can also lengthen teeth that are too small, correct misalignment and close gaps in your smile. To correct even more extensive problems, crowns (also called caps) can replace the entire visible portion of one or more teeth — or, if teeth are missing, a permanent, long-lasting dental implant can be placed.
Many adults are choosing orthodontics to correct problems of tooth position, alignment or spacing — in fact, some 20% of all orthodontic patients today are grown-ups! It's never too late to start treatment, and with less-noticeable appliances like clear aligners and tooth-colored braces, it's easier than ever to make those ch-ch-ch-changes.
If you would like more information about the options available in cosmetic dentistry, please contact us or schedule an appointment for a consultation. You can also learn more by reading the Dear Doctor magazine articles "Orthodontics For The Older Adult" and "Cosmetic Dentistry."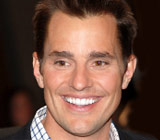 Can having a great smile help land you a high-level business position, a TV show, and a bride? Maybe — at least if you go by the example of Bill Rancic.
The 42-year-old Chicago native is well known as the first winner of NBC-TV's The Apprentice, a reality show where contestants vied for a job with Donald Trump's organization. Shortly after his selection as Trump's newest hire, Rancic met his future wife, Giuliana, when she interviewed him for E! News. Flash forward a few years, and the couple is now hosting their own reality TV show on Style network.
So how much has Bill's winning smile helped?
"I think a great smile says a lot about a person — especially in our professions," Bill recently said in an interview with Dear Doctor magazine. He also mentioned that having a few cosmetic dental treatments helped him close the deal.
As a child, Bill wore braces to correct an overbite. For both kids and adults, orthodontic treatment is often the first step toward getting the smile of your dreams. The practice of orthodontics has changed dramatically in the past 20 years and there are now a number of choices available in lieu of traditional metal braces.
Not Your Father's Braces
For those who need to maintain a "professional" image, tooth-colored braces offer a less noticeable way to straighten your teeth. Lingual braces are another option that's suitable in some situations. These are truly invisible: bonded on the tongue side of the teeth, they can't be seen from the front.
Or, you may be able to forego braces altogether and use a series of clear plastic aligners to gradually bring your teeth into alignment. Not only are these difficult to notice, but they can be completely removed for short periods of time — at important board meetings, for example.
Red-Carpet Tooth Whitening
More recently, Rancic had tooth whitening treatments. Depending on the degree of lightening needed, these can range from custom-fitted bleaching trays that you wear at home under the supervision of a dentist, to in-office whitening treatments that work in far less time. Both can be effective in lightening your teeth by six shades or more.
But if you need the ultimate in whitening, veneers may be the best option. These are fingernail-thin coatings, made of pearly-white porcelain or composite material, that are placed directly on the tooth surfaces. Realistic and durable, they can provide a "Hollywood white" smile that's ready for the red carpet.
Did Bill's cosmetic dental work really improve his life? We can't say for sure — but as his wife Giuliana recently told Dear Doctor, "First impressions are very important, and having a beautiful smile will help anyone make a great impact on others." So perhaps it worked on her!
If you would like more information on how cosmetic dental treatments can improve your smile, please contact us or schedule an appointment for a consultation. You can learn more about this topic in the Dear Doctor magazine articles "The Magic of Orthodontics" and "Important Teeth Whitening Questions Answered."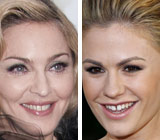 One's a singer who made her name playing New York clubs in the 1980's before catapulting to international pop stardom; the other's an actress from New Zealand who, in 1994, at the age of 11, became the second-youngest person ever to win an Academy Award. Both remain at the top of the A-list today. What other feature do Madonna and Anna Paquin have in common?
You guessed it — it's their teeth. Both have a small but noticeable gap between their two front teeth, known as a diastema. This condition is relatively common, and it's normally easy to treat — if that's something you'd like to do. But wait a moment… In certain African countries, this kind of smile is considered a sign of fertility; in France, they call it "dents du bonheur" (lucky teeth); some other cultures consider the gap a predictor of future wealth. So if you've already made this look work for you, there's no need to change it — even if you might need other cosmetic dental work.
The "perfectly imperfect" smile has become an increasingly popular option for people having veneers, cosmetic bonding, or even dental implants. Some trend-watchers have even noted a pushback against the ideal of a completely even, flawless, Hollywood-white smile. Does that create a problem at the dentist's office?
Absolutely not! We call the process of figuring out how your teeth should look "smile design" — and it's as much an art as a science. When we're just beginning to design your smile, we look at a number of features — including the size, shape, color and alignment of your teeth, the position of your lips, the amount of gums exposed, and the relationship between your smile and your other facial features. We're also listening carefully to you: what you like and don't like about your smile, how you think it could be improved… and what should stay just the way it is.
Of course, before doing any cosmetic work, we will always perform a complete dental exam to detect any underlying condition and determine what treatments are best. Then, we will work with you to help you get the smile you've always wanted. Not sure exactly how it will look when it's all done? Ask us for a preview — from computer-generated pictures to actual 3-D models, we can show you how your new smile will enhance your appearance.
So if your smile needs a little help to look its best — but you still want it to be uniquely yours — maybe now is the time to come in and see us. If you would like more information on smile design, please contact us or schedule an appointment for a consultation. You can learn more in the Dear Doctor articles "The Impact of a Smile Makeover" and "Beautiful Smiles by Design."