My Blog
Posts for tag: oral health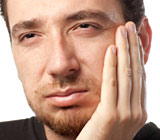 Temporomandibular Disorder (TMD), which was formerly known as Temporomandibular Joint Disorder (TMJ), is an interesting condition because it can be hard to diagnose and often mimics many other conditions. It arises when there are problems inside the temporomandibular joint, and the muscles attached to it, causing pain. When treating TMD, we typically start by relieving the symptoms of pain and discomfort with heat, mild pain medications, a diet of soft foods, and some simple jaw exercises. We feel that it is critical to address your pain issues as soon as possible before preceding any further with treatment.
Once we have provided some pain relief and after having completed a thorough history and examination, we can move to the next phase of treatment. This may include the introduction of a bite guard or some form of oral appliance therapy. A bite guard is an unobtrusive yet rigid plastic horseshoe-shaped appliance that fits snuggly over the biting surfaces of the upper teeth. When in place and properly adjusted, this custom-made appliance allows your muscles and therefore jaw joints to relax. And it will prevent you from grinding your teeth, another contributing factor to TMD. We will probably ask you to wear it when sleeping or in times when you are feeling stressed when clenching or grinding habits may be active. We may also suggest that you obtain some relaxation therapy and/or biofeedback from a licensed therapist, as this can prove helpful in treating TMD.
If you have suffered from frequent jaw pain in the past and suspect that you may have TMD, please let us know so that we can address it at your next appointment. Or if you are currently in constant or severe pain, contact us immediately to schedule an appointment. You can learn more about the signs, symptoms, and treatment options for TMD by reading "TMD — Understanding The Great Imposter."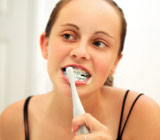 It's a recognized goal of modern dentistry to help you keep your natural teeth clean and disease-free, so you'll be able to enjoy them for your whole life. But dentists can't accomplish that goal by ourselves — we need your help! Maintaining good oral hygiene is the best way to ensure that your smile stays as healthy as it should be. Here are a few simple tips that can make a big difference in your dental health.
Use the right brush, and change it as needed. What's the right brush? Generally speaking, it's one with soft bristles that's small enough to fit your mouth comfortably. However, if you have trouble using a manual brush effectively (because of arthritis, for example), consider getting a good-quality electric brush. Change your brush when its bristles begin to stiffen or wear out. Ask us about proper brushing technique if you have any questions — and, of course, make sure to use a toothpaste with fluoride.
Floss — every day. Because no matter how hard you try, you simply can't reach all the areas in between your teeth with a brush alone — and that's where many cavities get started. Plus, when it comes to preventing periodontal (gum) disease, flossing may be even more important than brushing, since it can actually remove plaque (a bacterial film) from under the gums. So no more excuses — OK?
Stay away from sugary drinks and between-meal snacks. That includes sodas, cookies, and so-called "energy" drinks, which often pack a damaging one-two punch of sugar and caffeine. If you eat sugary treats at all, do so only after a meal. This will give your mouth plenty of "free time" to neutralize the acids that result when sugar is processed by oral bacteria. It's these acids that are the primary cause of tooth decay.
Avoid bad oral-health habits. Some you already know: smoking (or using tobacco products of any kind); excessive consumption of alcohol; chewing on pencils, fingernails, or anything else that doesn't belong in your mouth. But some you may not know: A clenching or grinding habit at night can cause serious tooth damage without you even realizing it. Getting an oral piercing increases your chance of chipping a tooth, and can lead to other problems. And playing sports without a mouthguard is risky business.
See your dentist regularly. You can do plenty on your own to keep up your oral health — but it's also important to see us regularly. When you come in for an office visit, we will check you for early signs of problems, and take care of any that we find… before they get bigger and harder to treat. We'll also make sure you leave with a sparkling smile that has been thoroughly and professionally cleaned.
If you would like to learn more about maintaining good oral hygiene, please contact us or schedule an appointment for a consultation. For more information, see the Dear Doctor magazine articles on "How to Help Your Child Develop the Best Habits for Oral Health" and "Oral Hygiene Behavior."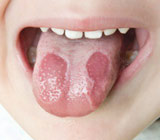 If you occasionally notice mildly irritating red patches on the top surface of your tongue, you may be one of the three percent or less of the population with a condition called benign migratory glossitis. It's also known as "geographic tongue" because the red patches often resemble land masses on a world map.
While the symptoms may be discomforting, geographic tongue isn't a cause for serious concern. The red patches are caused by the temporary loss of papillae, tiny bumps that grow on the surface of the tongue, which may appear and disappear repeatedly over a short time period (ranging from hours to days). As its medical name implies, this form of glossitis isn't cancerous or contagious; it's referred to as "migratory" because the red patches often appear to move around while changing size and shape. An outbreak can cause a mild burning or stinging sensation, and some people also encounter numbness in the patchy areas.
While there isn't a firm consensus as to geographic tongue's exact cause, there do appear to be triggers for it including stress, hormonal changes and mineral or vitamin deficiencies (particularly zinc and Vitamin B). There also seems to be a connection with psoriasis, a skin ailment characterized by redness and scaling — a number of people will experience both conditions. Geographic tongue appears more often in middle-aged, non-smoking adults, particularly women during hormonal fluctuations (as during pregnancy or ovulation). Individuals with deep grooves on their tongues called fissures are more susceptible as well.
There's no cure for the condition, but there are some treatments that can help alleviate any accompanying irritation. Depending on what we find during examination, we may prescribe anesthetic mouthrinses, antihistamines, steroid ointments or other treatments to help manage discomfort. It may also be helpful to limit your intake of foods during outbreaks that may increase irritation, including high acidic foods like tomatoes or citrus fruit, as well as eggplant, mint, spicy foods and alcohol (including certain mouthwashes).
If you experience these occasional patchy outbreaks on your tongue, please schedule a visit with us for a full examination. We may be able to reduce your discomfort and certainly put your mind at ease.
If you would like more information on geographic tongue, please contact us or schedule an appointment for a consultation. You can also learn more about this topic by reading the Dear Doctor magazine article "Geographic Tongue."